Qrator DDoS Mitigation
Technical Description
Dedicated Server and Cloud Platform clients can order additional protection from our partner Qrator.
All traffic, including traffic sent over HTTPS, is automatically filtered by Qrator. Their network is a perfect fit for projects that regularly experience DDoS attacks. Connections to Qrator Labs' filtration nodes are provided by the world's largest backbone Internet providers.
DNS records are modified to forward user traffic to Qrator filtration nodes, which use BGP anycast technology to announce their addresses. Once enabled, traffic is continuously passed through the Qrator network for analysis, regardless of whether or not there is an attack. The "cleaned" traffic is then forwarded to the user's protected server in the Selectel infrastructure.
All Qrator network nodes work independently of one another; if one server goes offline, a protected site's traffic will be automatically rerouted to the nearest filtration node.
Billing and Pricing Plans
Prices for Qrator DDoS mitigation can be found in the Control panel.
When paying for 1 month, say starting December 14th, the service will be provided until January 14th. Users can also choose their maximum DDoS filtration bandwidth: from 1 Gbps to 10 Gbps (more).
Bandwidth is measured every three minutes. The 30 highest values for the month (1.5 hours) are not considered. The 31st highest value is the bandwidth determinate.
On the Anti DDoS page, under Prices, a list of available services are displayed under the Qrator Protection tab, including Additional payment for legitimate traffic (Mbps), all plans (820 rubles per Mbps, including VAT).
How is traffic billed?
All billing options are based on your site's maximum traffic for the month.
This includes:
legitimate traffic — traffic generated from standard users (attack traffic is ignored);
dominant traffic (the higher of incoming or outgoing traffic).
What if during a DDoS attack, traffic to my site exceeds my billing plan's limit. Will filtering degrade?
Filtering quality will not degrade and the DDoS attack will be neutralized.
You will receive an offer to enable the billing plan that matches your risk:
if you agree, the plan will be effective for a minimum of three months;
if you decline, inbound traffic may be limited (including legitimate) to the amount permitted under your plan.
Enabling the Service
To enable Qrator DDoS mitigation:
Open the Network services subsection under Networks and Services in the control panel.
Click Order services.
Select a Qrator mitigation service and click Order.
Note: Your account balance should have enough money to pay for at least one month of service.
Confirm your purchase in the new window.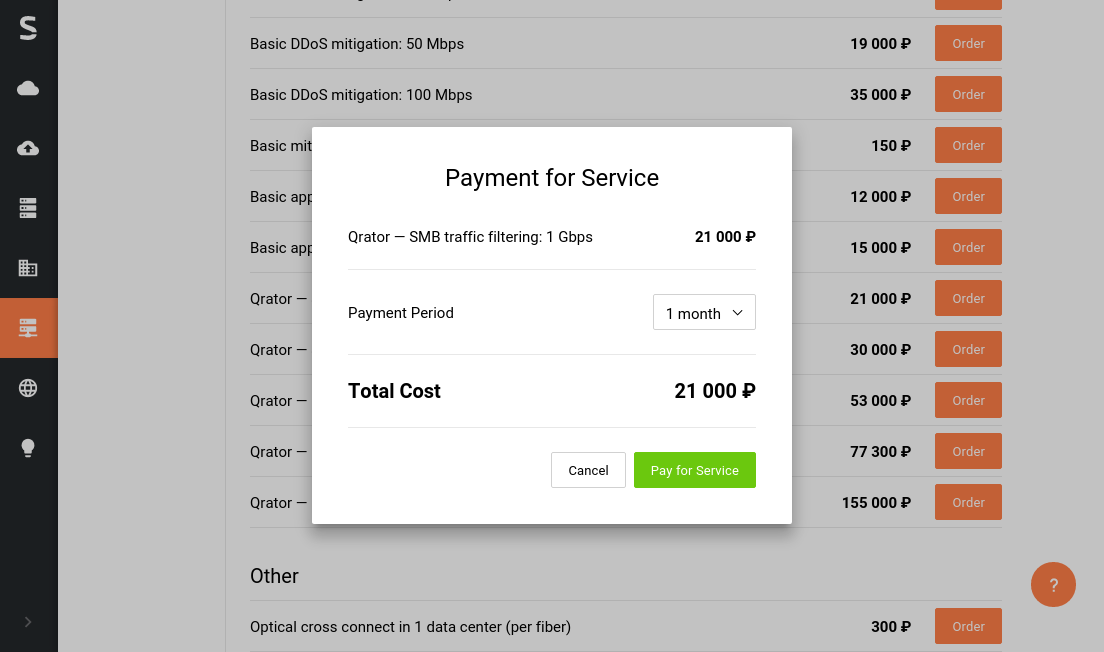 A request to enable Qrator DDoS mitigation will be sent to Selectel tech support.
An e-mail will be sent containing a protected IP address, where all of your traffic will be sent, as well as a Qrator login and password.
You will have to add an A record pointing to the protected IP address to the DNS. Instructions will be sent for changing your site's DNS records.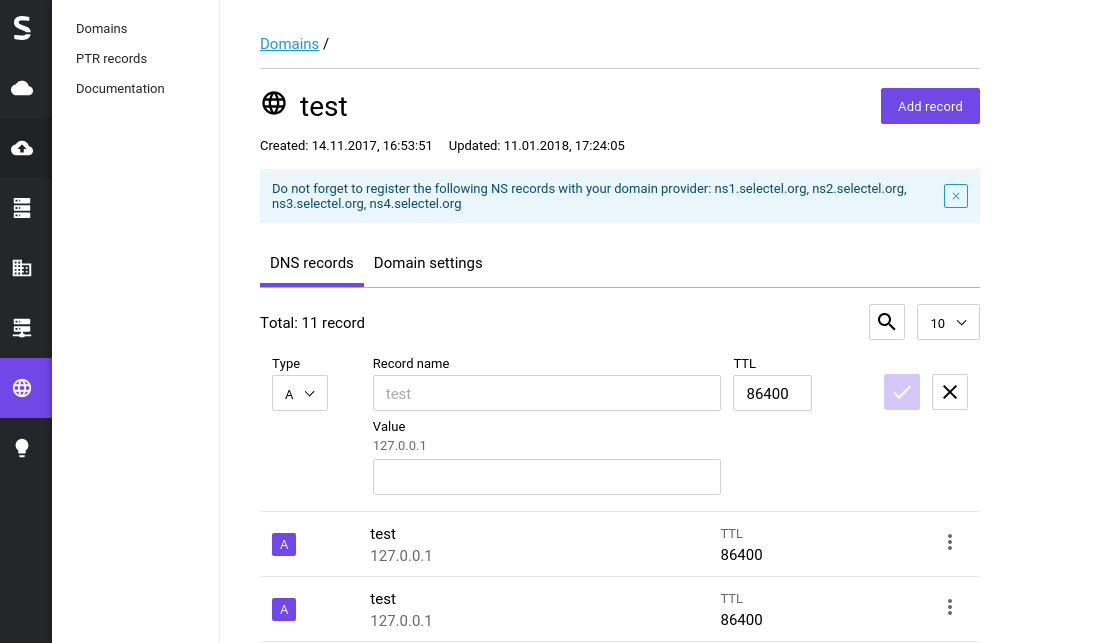 If your domain is delegated to Selectel DNS servers, you can change your site's DNS A record in the DNS Hosting section of the Selectel control panel.
Note: A domain must be attached to the server's IP address.
A ticket from tech support will be sent stating the service has been enabled, and the service will appear on your list of Active Services under the Network services subsection.
The service usually becomes available in 1 business day. Immediate connections can be made by submitting a ticket indicating the need for an urgent connection.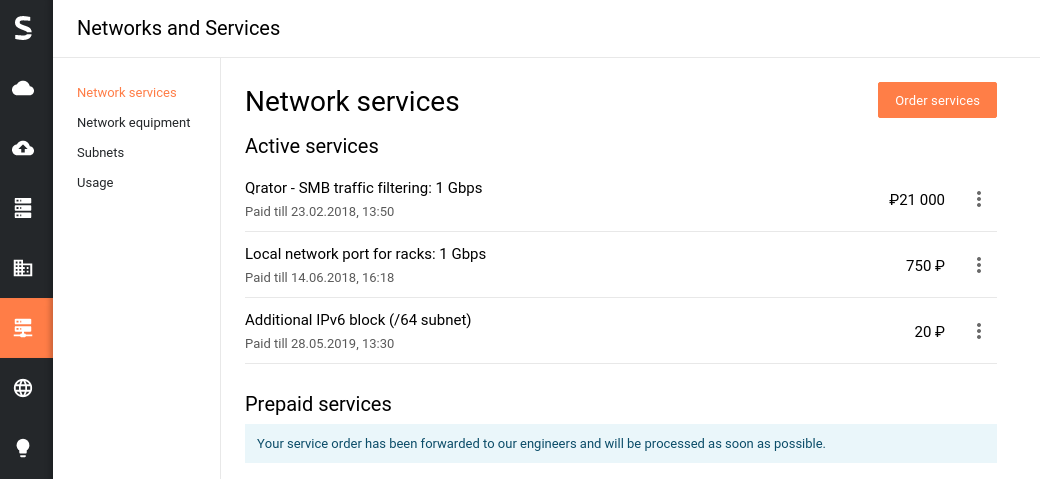 Using the Service
Accessing the Qrator Dashboard
The Qrator dashboard can be accessed by entering the login and password sent in the aforementioned e-mail.
Statistics
Under Live Stats, users can view the total incoming (input) and cleaned (passed) traffic. The following filters can be applied for viewing statistics:
type (traffic, packets, requests, etc.);
time (5 hours, 1 day, week, month, etc.).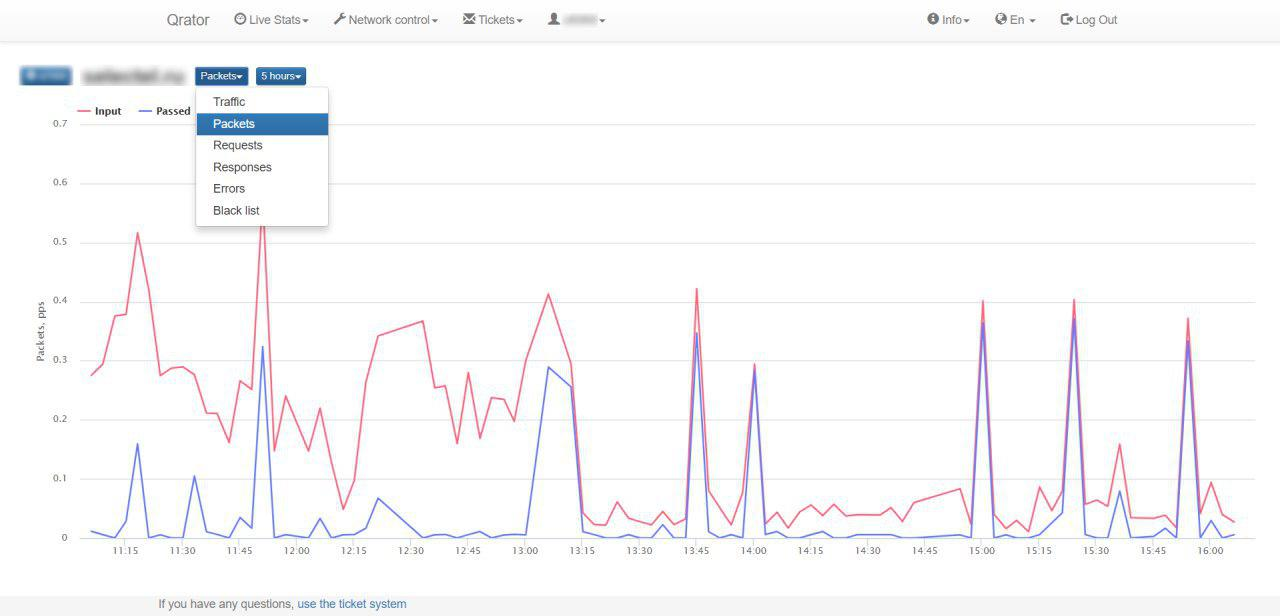 Adding Certificates
If you do not have an SSL certificate, you can send a ticket requesting a free certificate from Let's Encrypt.
If you have your own certificate, you can apply it by uploading it in the dashboard:
Open the Network control tab.
Select Certificates.
Click Add certificate.
Fill out the form.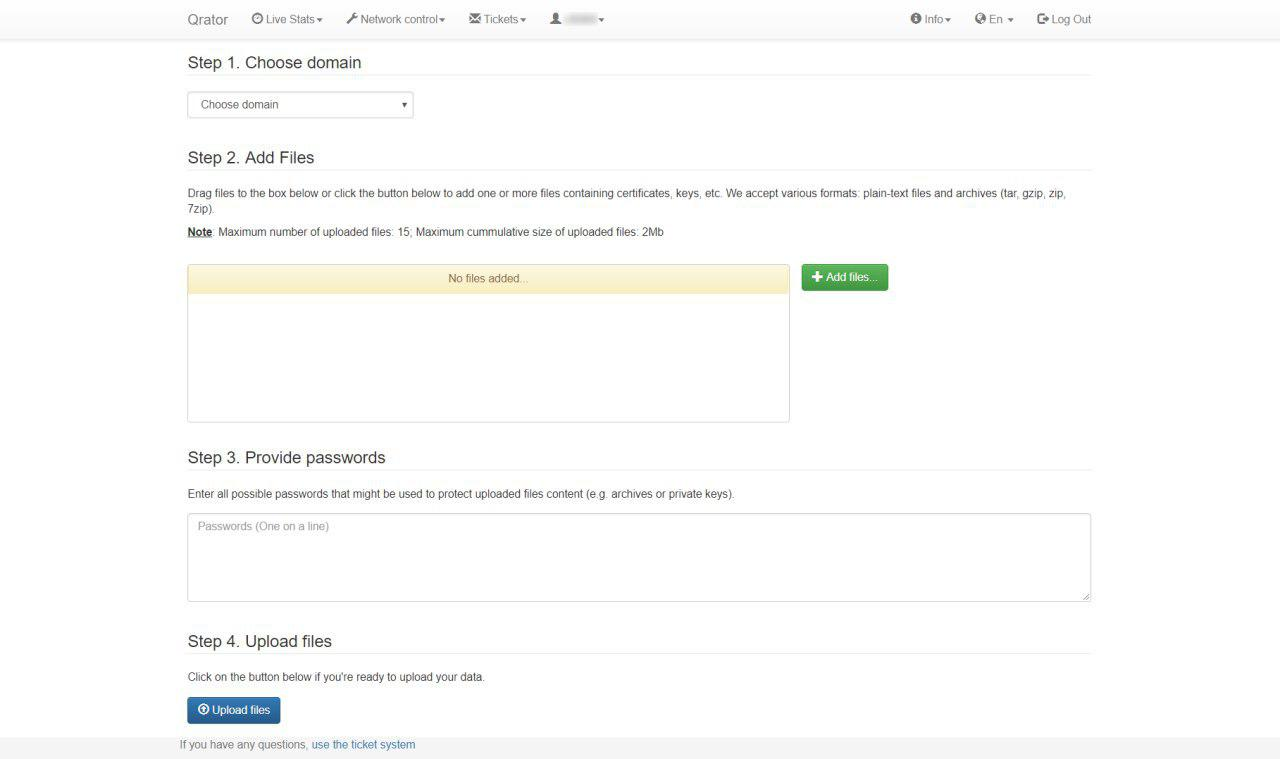 Click Upload files and select your certificate.
The certificate will now be added.
Disabling the Service
To disable the service, disable auto-renewal by clicking Disable monthly payments in the drop down menu.
To disable Qrator DDoS mitigation, change the IP address in the domain's A record to the original (unprotected) IP address.