MC-LAG
MC-LAG is available to clients using our Dedicated Server (only custom configurations), Colocation, and Server Rack services.
MC-LAG stands for Multi-Chassis Link Aggregation Group.
Using link aggregation and multiple switches, this technology raises the reliability of a network connection. Let's take a look at how it works.
Below is a diagram of a network connection without any redundancies: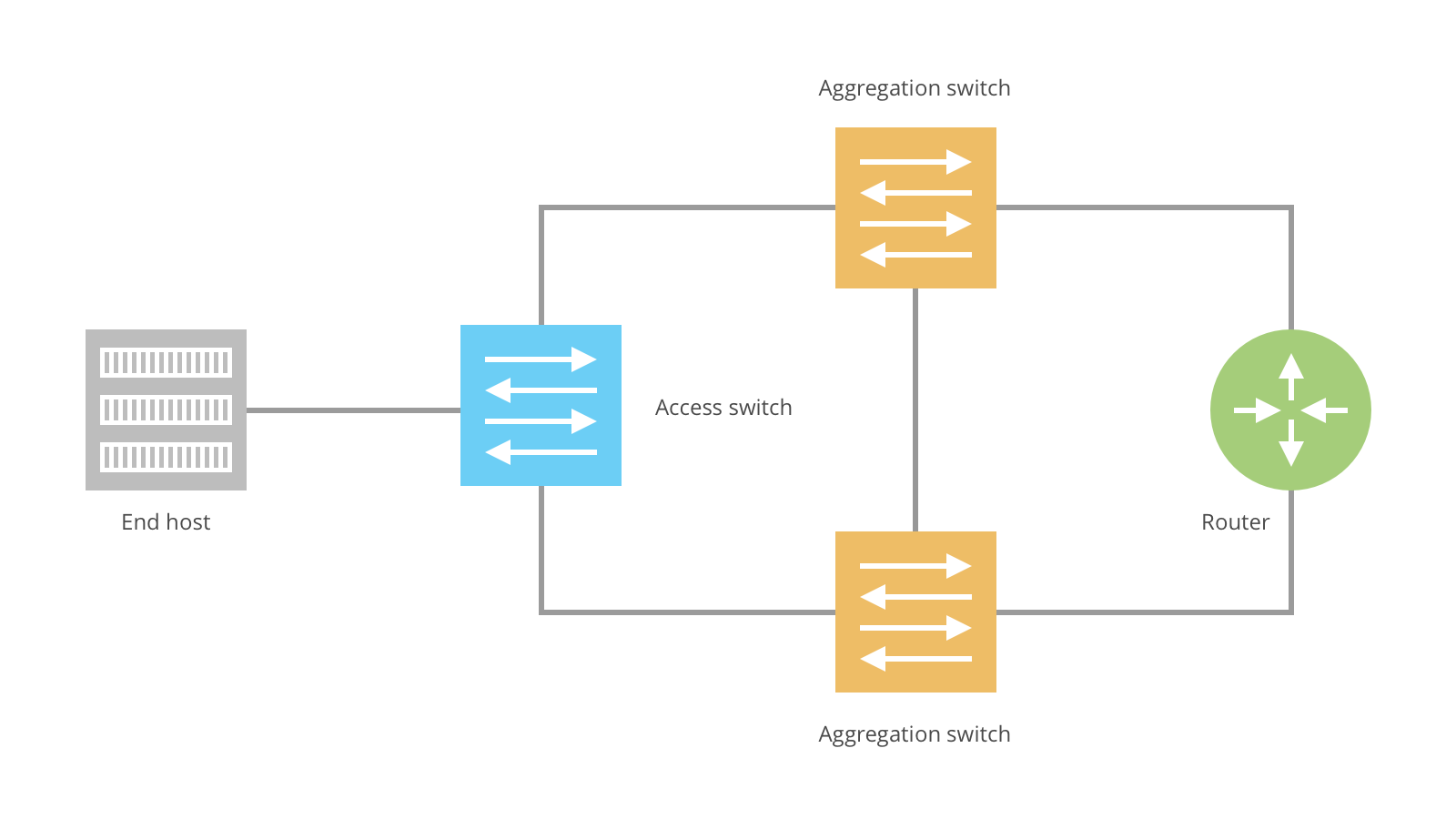 The end host is connected to a single access switch with one interface and one link. Any incident (such as a broken link or if a switch goes down or needs to be restarted) will cause the end host to go offline, and the service may be unavailable for quite a while. This can all be avoided with a redundant connection.
An MC-LAG connection is clearly depicted below:
The connection is provided by not one, but two independent access and aggregate switches. The end host is connected by an aggregated Ethernet link (LAG, Etherchannel) using LACP and requires two identical network interfaces.
The end host can act as a server or other piece of equipment (such as a router or switch).
The redundant connection offers protection from physical link issues and other errors, like if a link is accidentally reconnected to an unconfigured access switch port or end host interface.
MC-LAG can be used for connections to the Internet as well as to a local network.
When may a redundant connection come in hand? Let's take a look at two practical examples.
A private cloud is physically hosted in a rented server rack. It is very important that the cloud be accessible from the Internet.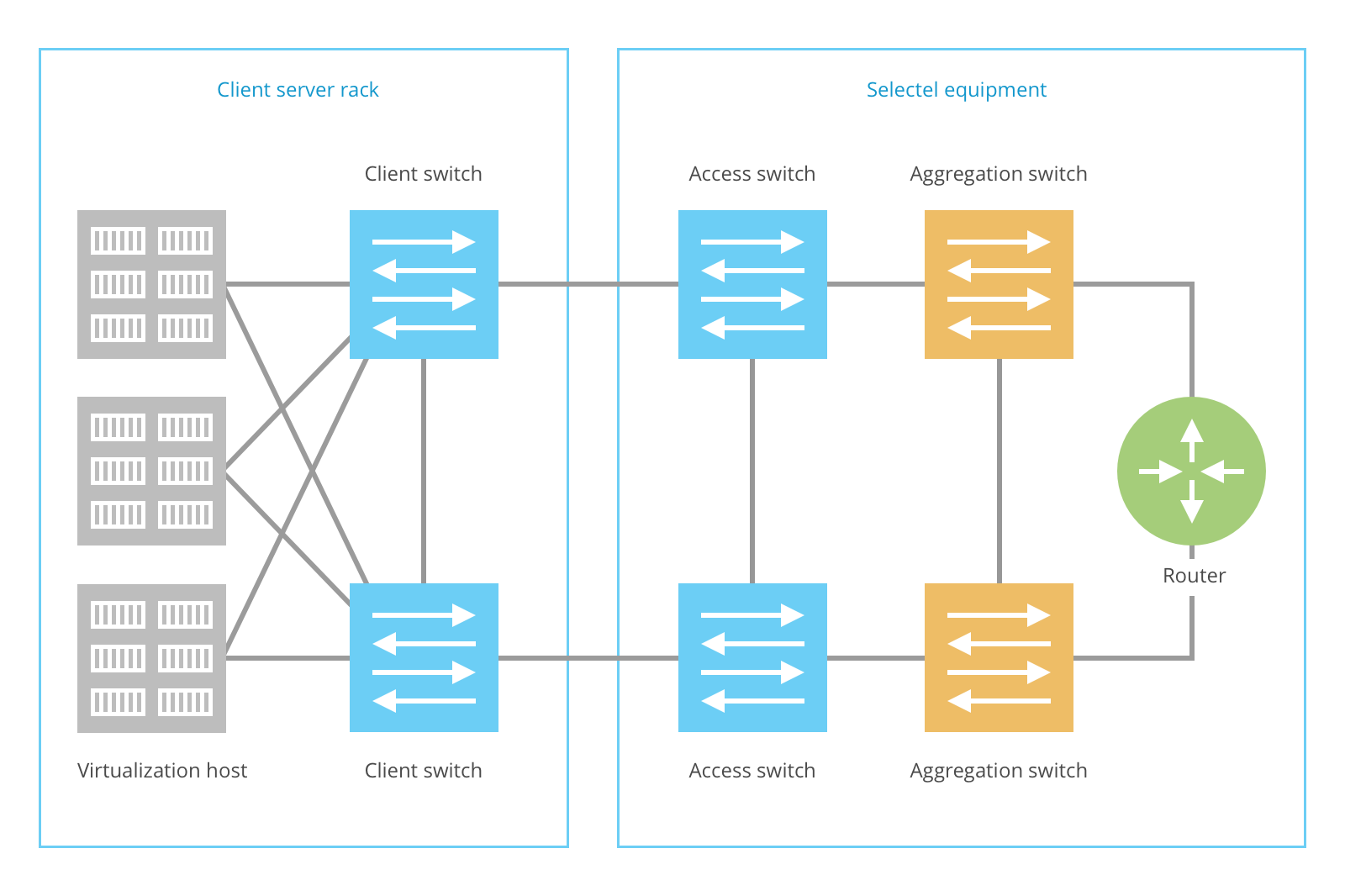 A backup Internet and LAN connection for a high-load, front-end web server. In this case, the backed is connected as usual, but a backup connection is used for the database server.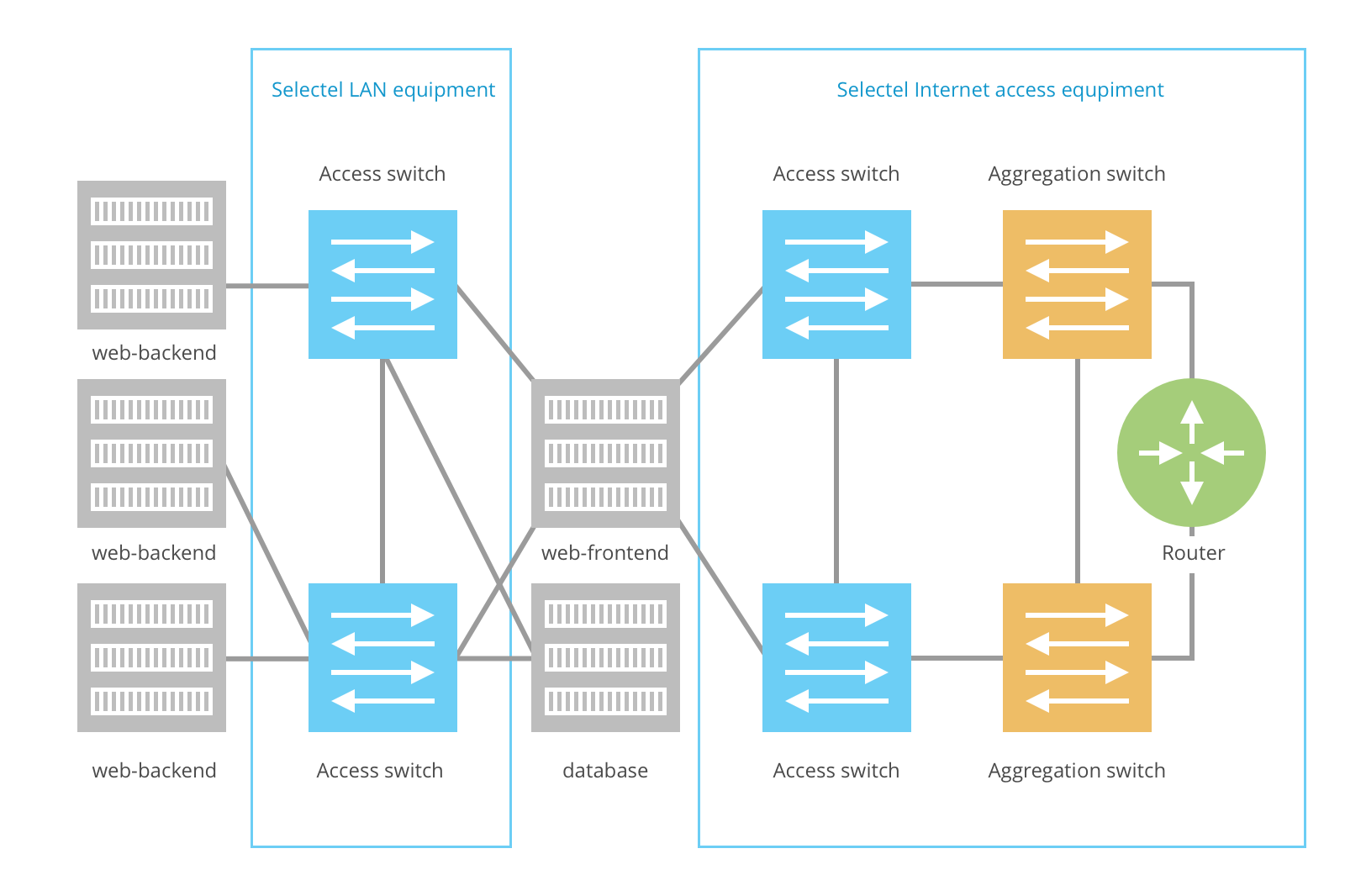 Service Terms
We guarantee that the access switches, which are used to provide redundant connections, will never be offline at the same time. During maintenance, switches will be disconnected one at a time so that network connections are always available.
For services with redundant connections, we raise the SLA coefficient of availability from 99.8% to 99.9%.
Redundant connections are considered an integral property of our custom dedicated servers.
Servers are also installed in racks with a duplicate network infrastructure. We recommend that custom servers use two power supplies.
If you already rent a server from us and would like to set up a redundant connection, you will have to cancel your existing server and order a new one with the same configuration.
When you cancel a redundant connection, you will also lose the corresponding server.
EtherChannel connections are provided using LACP, 802.3ad. Two links from the access switch to the end host are simultaneously active.
When setting up an aggregate channel on a switch or server, we strongly advise you not run management commands that are "beyond the changeable interface", meaning those that require connections from other network interfaces, console access, or IPMI.
This service can be order from the control panel. After placing your order, technical support will contact you to discuss the details of your configuration.
Redundant connections can be provided with two different interfaces: 1000Base-T and 10GBASE-LX.